The Audio-Technica AT-LP120XUSB-BK is one of the most popular turntables on the market today. Based off of the extremely popular Technics SL-1200 turntable, this turntable has the ability to convert all your favorite vinyl records to digital files. But, is it worth the price? Is the sound quality up to snuff? We'll let you know in the back half of this Audio-Technica AT-LP120XUSB-BK review. But first, here's a sneak peek.
Affiliate Disclaimer: Darkside Vinyl is a participant in the Amazon Services LLC Associates Program, as well as other affiliate advertising programs, which are designed to provide a means for sites to earn advertising fees by advertising and linking to Amazon.com or other websites. If you follow a link and make a purchase, we may earn a fee for that transaction. These relationships do not impact our editorial opinions or decisions.
---
The Good
Aluminum Platter

Sleek Design

Quiet Direct Drive
The Bad
No Auto-Stop
Slight Hum
Mid-Tier Sound
The Bottom Line:
The Audio-Technica AT-LP120XUSB-BK is a solid mid-tier turntable for vinyl newbies. If you are just getting into playing vinyl records, or if you are upgrading from the Walmart special, then the Audio-Technica AT-LP120XUSB-BK definitely warrants your attention.
The main selling point of this turntable is the USB recording. Being able to take your old records and convert them to digital files is a game changer. With this turntable, you'll have all your favorite music in your favorite media player, pops and crackles and all.
---
Audio-Technica AT-LP120XUSB-BK Review 2023 | Some Quick Background
Audio Technica Company History
Audio Technica is a Japanese technology company that sells audio equipment across the world. Started in 1962, Audio Technica was originally a phono cartridge manufacturer. With firm roots in the space, Audio Technica has grown to be one of the largest suppliers of budget audio equipment in the world.
How does Vinyl to Digital Recording Work?
The technology is rather complicated, but thankfully it's easy to use. Basically, you plug the Audio-Technica AT-LP120XUSB-BK into your PC or Mac using the supplied USB cable. Then, you open the Audio Technica recording software, and play your record like normal. The album will automatically be recorded to your chosen audio format, complete with all the character of vinyl playback. It's like magic, but better, because it's science. SCIENCE!
What Else Should You Look For In A Turntable
The most important aspect of a turntable is obviously sound quality. After that, you should be looking for how sturdy the components are, which playback speeds are included, and how good the brand reputation is. Also, if the model has a lot of social media attention, it could help you down the road if you have questions.
---
Audio-Technica AT-LP120XUSB-BK Review [Year]
---
The Good
USB Digitizing of Vinyl
To reiterate what we said above, the biggest selling point of the Audio-Technica AT-LP120XUSB-BK is the fact that it allows you to digitize your vinyl collection. This is an awesome feature that is hard to find.
Vinyl records by nature are a consumable product. Listening to your records destroys them. The needle from your record player slowly damages your records to the point they are no longer playable. For most, this is a small consideration, but it is nice to have a pristine copy of your record saved on your hard drive or cloud storage forever.
Aluminum Platter with Slip mat
At Darkside Vinyl, we always recommend you use some type of turntable platter mat. The fact that the Audio-Technica AT-LP120XUSB-BK comes with one is just an added bonus. Along with the built in slip mat, the Audio-Technica AT-LP120XUSB-BK has a solid aluminum platter that spins steady and looks incredible. We don't recommend scratching your records, but with a platter this sexy, it's tempting.
Sleek Design with Dust Cover
It's not just the platter; this entire turntable is gorgeously designed. Because it's based off of 80s turntables, it has a retro look that fits any aesthetic. The best part of this design is that every aspect of the turntable is clear and easy to understand. If you want to adjust the pitch or speed, it's right there in your face. Boom.
S-Shaped Turn Arm
An S-shaped tone arm doesn't sound like a big deal, but it really is. A tone arm's balance is incredibly impactful on overall sound quality. If it is even a little bit out of whack, it will sound terrible. However, a straight tonearm tends to be too long to balance properly. Enter the S-shape.
An S-shape tonearm shifts the pivot point so the needle is able to cover the distance of the record without becoming off balanced. With a solid S-shaped tonearm, the Audio-Technica AT-LP120XUSB-BK remains perfectly balanced, as all things should be.
Sturdy Direct Drive Mechanism
Most turntables spin due to a belt-drive system. With a belt-drive, a motor turns a belt that turns a wheel under the platter and causes it to spin. With a direct drive system, the motor is attached to the platter itself.
A lot of people don't like direct drive mechanisms, but that's because they've only had bad ones. Some direct drive motors affect the sound quality of the turntable. But, with the Audio-Technica AT-LP120XUSB-BK, there is absolutely no motor noise. There's also no belt, which means you won't have to pull your turntable apart to put the belt back on the drive pulleys.
---
The Bad
No Auto-Stop
There's a few different types of tonearm returns. Fully automatic returns bring the tonearm back to it's resting spot after the record has finished playing. These tend to have problems, so we don't recommend them.
Then there are auto-stop systems. These are awesome because they stop spinning the platter after the record has stopped playing. That allows you to move the needle back to it's home before flipping the record.
The Audio-Technica AT-LP120XUSB-BK has no auto-stop at all. The platter will just keep spinning on the empty inner space of your record until you get across the room to shut it off. It's bad for your table, your records, and your soul.
Mid-Quality Cartridge
The Audio-Technica AT-LP120XUSB-BK has a AT-VM95E Dual Magnet phono cartridge. This cartridge is extremely weak and basic. It won't give you the best sound quality, and it won't hold up well over time.
Luckily, it's easy to replace the cartridge on the Audio-Technica AT-LP120XUSB-BK, so it's not a total deal breaker. We recommend upgrading the cartridge to something like the Ortofon 2M.
Phono Hum
The Audio-Technica AT-LP120XUSB-BK has a built-in phono preamp, which is pretty convenient. This allows you to plug directly into a set of powered speakers. However, some customers have reported a slight hum attributed to the preamp. This isn't a universal problem, but it is a concern, because there isn't a fix.
Quiet Thumping noise
Even fewer customers experienced this problem than the humming, but a few people have reported a thumping sound. We believe this is probably something wrong with the platter balancing. You may need to find a tutorial on rebalancing the platter, but that should fix this problem.
---
Audio-Technica AT-LP120XUSB-BK Review 2023 | The Bottom line
While the Audio-Technica AT-LP120XUSB-BK is not without its flaws, it's a great turntable at its pricepoint. It allows you to digitize your prized vinyl collection, and it looks great doing it.
This turntable has some quirks, and it requires a bit more attention than the fifty dollar model at Walmart. However, the extra expense and finnicky setup are worth the result. We highly recommend the Audio-Technica AT-LP120XUSB-BK for the burgeoning audiophile, and you should definitely check it out. You won't regret it.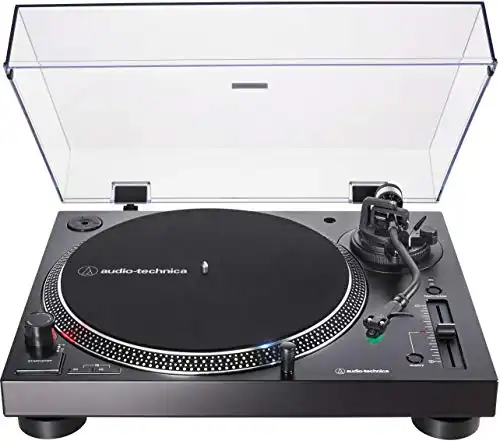 We earn a commission if you click this link and make a purchase at no additional cost to you.
Audio-Technica AT-LP120XUSB-BK Review 2023 | Final Thoughts
Well, that was our Audio-Technica AT-LP120XUSB-BK review. How do you feel about our conclusion? Is there something we forgot to mention? Drop a comment down below and be sure to check out our other reviews like this one.